Someone is throwing guns — big ones, and a number of them — into Jamaica Bay.
The NYPD is working to unravel the mystery after a concerned New Yorker tipped off police to the submerged cache.
The department says divers with the emergency response detectives' unit of the NYPD Special Operations team went into the water near Beach 38th Street and Norton Drive and recovered the guns around 10:15 a.m.
Three assault rifles were pulled from the bay, and a further search led divers to another 14 handguns. No arrests have been made, and no details on who alerted police — or who may have dumped the guns — were available.
The NYPD shared photos of the recovered guns, which did not appear to have sustained significant damage.
---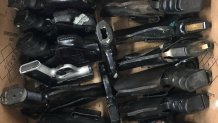 The investigation is ongoing. Anyone with information is asked to call Crime Stoppers at 1-800-577-TIPS.
Jamaica Bay is an 18,000-acre wetland estuary surrounded by the Rockaway Peninsula to the South, Brooklyn to the West, and Queens to the East. JFK abuts the bay on the northeastern side. Comprising an area almost equal to that of Manhattan, the bay consists of numerous islands, a labyrinth of waterways, meadowlands, and two freshwater ponds.