BBC Sport research has found evidence of 81 individual short-haul domestic flights made by Premier League teams to and from 100 matches during a two-month sample period this year.
Whether it's Trent Alexander-Arnold on a flight back from Newcastle to Liverpool, Chelsea's Ben Chilwell flying from London to Leicester or Nottingham Forest players on their way from East Midlands Airport to Blackpool, occasional social media posts have so far been the only insight to inform the debate around Premier League clubs flying small distances to matches instead of travelling by road or rail.
Now, a study of 100 games played in the UK involving Premier League teams between 19 January and 19 March 2023 has given the first insight into the volume of the controversial journeys, some as short as 27 minutes.
And for the first time the study also shows details of 'positioning' flights – where near-empty planes are flown to convenient airports, sometimes across the UK, in order to then transport players and staff to fixtures.
The study suggests:
81

individual domestic flights by Premier League clubs (including return journeys)

Of those 81 flights, the breakdown was 59 flights for Premier League fixtures; 16 for FA Cup games and six for EFL Cup matches

The shortest flight was just

27

minutes; the longest

77

minutes

The average duration of these 81 flights was

42

minutes.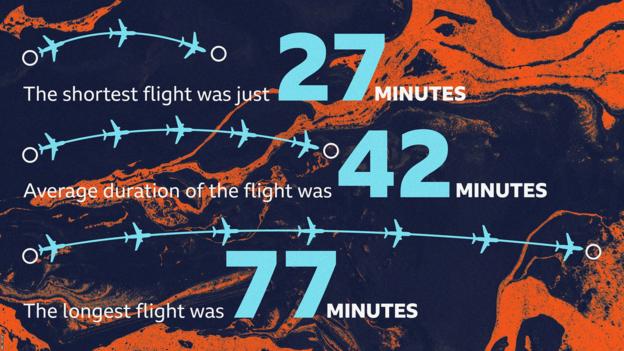 BBC Sport contacted all Premier League clubs with the flight information.
In addition to these 'player movement' flights, the research also suggested a significant number of connected 'positioning' flights. The study found:
37

of the 81 player flights had a flight marked as 'positioning' beforehand

The longest 'positioning' flight was

84

minutes; the shortest just

17

minutes

The average duration of the 37 'positioning' flights in the study was

42

minutes
Flights produce greenhouse gases – mainly carbon dioxide (CO2) – from burning fuel. These contribute to global warming.
Emissions per kilometre travelled are known to be significantly worse than any other form of transport, with short-haul flights the worst emitters, according to the Department for Business, Energy and Industrial Strategy.
What about these 'positioning' flights?
'Positioning' flights are where the plane is getting into position to pick up its private charter passengers. They are normally what the aviation industry calls "empty leg" flights – so without passengers and therefore qualify as 'ghost' flights, a term increasingly being used to describe any flight with fewer than 10% passengers.
BBC Sport contacted the airlines involved but received no confirmation as to the number of passengers on these flights.
As the Premier League's most southerly team, Bournemouth perhaps have more justification than others to fly to some games. They flew to Birmingham airport and back on the weekend of 17-18 March for their fixture with Aston Villa – a return journey totalling 73 minutes.
But the data pointed towards a further four 'positioning flights' connected to this trip – three of which were to or from Scotland – totalling an additional 201 minutes.
In addition to the 37 marked positioning flights, the BBC Sport research also observed instances of planes flying from one London airport to another in advance of a player flight – although not marked as 'positioning' flights. It is therefore possible the actual number could be higher.
The Premier League does not centrally mandate clubs' individual travel plans, but said in a statement to BBC Sport that it "recognises the need to take action on climate change and is committed to reducing its overall climate impact".
The statement added: "Clubs have demonstrated their commitment to positive change in this area and continue to play an important role in raising awareness of the issue among fans, while also working on policies to improve environmental sustainability across their business operations."
Those policies, the Premier League pointed out, include more sustainable fan travel initiatives, use of renewable energy and conservation projects.
The scale of the emissions
The Premier League pointed out that in the two-month period of the BBC Sport research, there were more than 74,000 domestic flights in the UK – putting the 81 Premier League club flights at less than 0.1% of that total.
Arsenal told BBC Sport that domestic flights of this type "accounted for 0.25% of the club's total emissions for season 2021-22".
An Arsenal spokesperson said: "Domestic flights are sometimes a necessity based on player welfare and operational needs. The need to fly often depends on kick-off time, the time in between our matches and the reliability of alternative transport methods."
The biggest emissions are generated from stadiums on matchdays and fan travel – which is the sport's biggest climate footprint. The Premier League statement said its work will also include "encouraging fans" to "consider how" they can reduce their own carbon footprint.
However, Dale Vince, chairman of League One side Forest Green, regarded as the world's most sustainable football team, called it "shocking data in just two months", adding: "It's an illusion to think there is a gain for a flight of that duration, modern coaches are very comfortable and aren't going to impair the performance of the players over that short distance"
Vince believes the Premier League and its clubs should lead the way.
Vince said: "The carbon impact is one thing… I think the bigger impact is the emotional one, the intellectual one, you've got Premier League teams setting a very bad example for the rest of the country… when we are desperately in need of getting to net zero.
"This comes just days after the latest UN report that says we absolutely have just a few years left to act to avoid the worst of the climate crisis."
The Premier League has signed up to the UN Sport for Climate Action Framework and as a result is tasked with reaching net zero by 2040. That was in November 2021 but it is yet to confirm its plans.
The statement added: "The Premier League is in the process of developing an environmental sustainability strategy, which will set out plans to deliver climate action. As part of this strategy, the league will continue to engage with and work alongside clubs and partners, to find practical ways of reducing football's environmental impact."
What are the factors?
Premier League clubs have been travelling this way for years – generally the quickest and most convenient option which clubs argue gives players and staff maximum time to prepare and recover between games, when the global fixture schedule is increasingly packed – something the clubs have no control over.
It is only recently, as players started to frequently post images on social media of these short domestic flights, that it attracted increased scrutiny in an era of climate impact awareness.
As this season shows, competition in the Premier League is as fierce as ever – just four points separates the bottom nine teams as they scramble to stay in the division and reap the multi-million pound rewards.
With such fine margins and enormous financial consequences, will clubs really risk a potential disadvantage by opting for slower but more environmentally friendly travel to high-stakes fixtures?
Matt Konipinski is director of physio and performance at Rehab 4 Performance and has worked with Liverpool, Rangers and Barnsley football clubs. He disputes the performance argument, but does acknowledge that in a busy schedule time might be the overriding concern.
He said: "I think physical condition is a consideration but I think the mode of travel doesn't necessarily have a huge amount of scientific support to justify one versus the other.
"We're talking about the options around whether a team might fly, whether a team may take the coach, whether a team may take the train and really the main emphasis around flying is speed and the top teams will prioritise speed over everything else."
There is no previous flight information to compare season with season. However, clubs have told BBC Sport that this season the cost of chartering planes has almost doubled as a result of both the rise in the price of fuel and decreased availability of planes after the pandemic and Brexit.
With pressure to spend money to attract better players, plus the increased focus on sustainability in the game, many clubs said the plane is the last resort – and that this 2022-23 season might actually see a reduction in flights from previous years. And that is despite running issues with England's rail network.
Chelsea manager Graham Potter gave an honest appraisal of the challenges facing football, saying: "I think it's something we increasingly have to look at, because I think it's something we have to do better with. It's my personal opinion. That's not to say its straightforward because there are factors, but I think it's an area we can improve."
Nottingham Forest were one of the few clubs who shared their full flight data with BBC Sport and a spokesperson said they anticipated using flights in four of their 23 away fixtures this season and added: "The club will always use rail or road travel unless there are overwhelming logistical and sporting reasons not to do so."
Many clubs reference fixture scheduling across multiple domestic and European competitions and then changes made by broadcasters with expensive TV rights – factors outside their control.
An English Football Association statement added: "Establishing a more environmentally sustainable approach across English football is very important, and we encourage everyone in the game to help play their part. It is the responsibility of each club to make their own operational travel choices across all competitions, including for Premier League, EFL and FA Cup matches."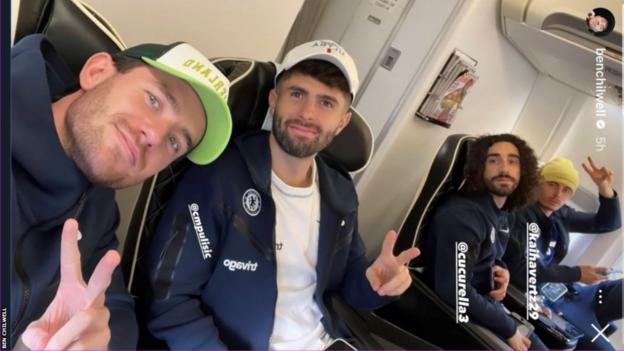 Analysis: Why has BBC Sport done this research?
What football does in this area matters because it is the world's most popular sport and has the potential to influence so many millions of people all over the world. The Premier League is not only the most popular domestic league in the world, it is also one of Britain's biggest exports.
There is no doubt that the more football there is, the less chance it can be truly sustainable, until something significant changes. While it is obvious the football authorities clearly don't control the clubs' travel plans, it is equally obvious to state that the clubs do not control the schedules, so when does the circular argument break?
To that end this research is intended to better inform a debate that, up until now, has too often focused on one team at a time and been anecdotal, a cycle from which many think it is impossible to see progress.
That includes acknowledging the relatively small emissions we are talking about but at the same time giving credence to what Vince called an "example" and others call an "opportunity" for the power and influence of football to be put to immense positive effect.
Sport has a long track record of bringing wider societal issues to the fore, and football has a more powerful role in that than any sport. A conversation about this domestic flight issue in the world of sport brings in discussion about the state of public transport in the UK, and the present and future of air travel.
Why do we not hear the biggest names in football speaking up on environmental issues to big audiences like they do on other issues? Is it because we haven't been able to progress the conversation in football? Is it because the emissions are not as apparent as other sports?
It might make sense for Formula 1 drivers to be quiet on environmental issues and yet we have Sebastian Vettel, Lewis Hamilton and Nico Rosberg all speaking up. Where is football's 'world champion'?
*BBC Sport has had a Sustainability Strategy in place since 2021 which includes a no domestic flight policy.