The large cache of guns that were found by a fisherman in New York CIty's Jamaica Bay earlier this week were allegedly from a home burglary upstate.
A law enforcement official told FOX 5 New York that the guns are believed to be from a home burglary in Carmel, which is located over 70 miles away in Putnam County.
The weapons were located by divers from the NYPD Special Operations team in Jamaica Bay on Wednesday, near the borough of Queens.
The NYPD told Fox News Digital that a 44-year-old fisherman noticed a plastic bag filled with weapons while fishing.
GUN RIGHTS GROUPS SPEAK OUT AS WASHINGTON STATE DEMS EYE BAN ON SEMI-AUTOMATIC RIFLES
After the man reported the sight, Emergency Response Detectives Unit divers were deployed to recover the guns.
Officials found three AR-15 rifles in a black plastic bag and 14 handguns in total. 
BIDEN KEEPS REPEATING FALSE SECOND AMENDMENT CLAIM, DESPITE REPEATED FACT CHECKS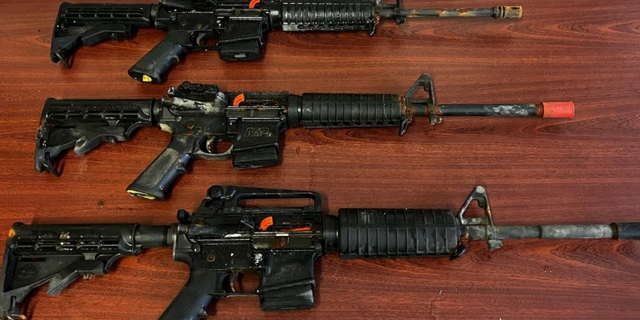 There is no information about who may have dumped the firearms.
Fox News Digital reached out to the NYPD for more information, but additional details about the alleged robbery were not available. 
CLICK HERE TO GET THE FOX NEWS APP
The Carmel Police Department did not respond to Fox News Digital's request for comment.